---
Recently, Springpoint hosted school and district leaders from around the country to celebrate the Opportunity by Design initiative. Launched in 2013 with a multi-million dollar investment from Carnegie Corporation of New York and resulting in 16 new high schools in 6 states, the initiative helps districts and networks "do school differently" by catalyzing new, innovative school models.
We brought together district leaders, practitioners, and principals from across the country to celebrate their intensive school design work, share lessons learned, and plot a path forward. Each school leader shared reflections, their successes, their learnings, and collaborated to figure out what's next. The keynote for this event was Amanda Delaney, a recent graduate of the Urban Assembly Maker Academy. Here are Amanda's reflection on that experience and the lessons that she shared with the leaders in attendance.
In May, I got the opportunity to speak to a room of dedicated, passionate educators at Springpoint's Opportunity by Design Culminating Convening. I was thrilled to be able to talk about my experience as one of the first graduates of an Opportunity by Design school. I graduated last year from the Urban Assembly Maker Academy in New York City and have just finished my first year at Hunter College, where I am majoring in Childhood Education.

When I started, I first wanted to thank a close friend of mine who has impacted me greatly. A friend who has helped me learn, who has grown alongside me, and who has helped me through tough times. A friend who has always reminded me to be the best version of myself. Leaving on the first day of school, my mother told me, "Don't be afraid to open your mouth!" And this friend made sure I never forgot that and when I opened my mouth, made sure that I felt listened to and understood. Their many lessons, especially on success and persistence, are ones I carry with me now as a college student at Hunter College and will carry with me for the rest of my life.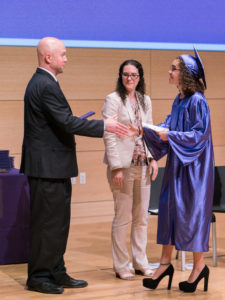 Amanda Delaney receives her diploma from Principal Luke Bauer, spring 2018.
I "revealed" this friend as my high school: Urban Assembly Maker Academy (UAM), an innovative new small school in New York City that was designed and launched with support from Springpoint. Talking about my alma mater as a person allowed me to illustrate the many ways that UAM prepared me to be a successful college student and the many lessons, specifically five most important, that they taught me.
First being self-advocacy. This lesson is more important than I recognized at the time, especially going from a small high school, where everyone knew me, to a college with over 16,000 students. It was impossible to be overlooked at UAM but now at Hunter College, it's another story. During my time at UAM, I was never afraid to reach out to teachers or even our principal, Luke, with a question, an idea, or even feedback on the school model. Luke always welcomed my input and sought it out over my time as a student. Because of that, I saw that there are adults that are willing to listen and consider students' perspectives. Now at Hunter College, I'm never afraid to reach out to my professors or fellow students with questions or ideas. And, thankfully, they are just as helpful and positive as the adults at UAM.
Empathy was another powerful lesson I learned at UAM. I was nervous about starting high school at an Opportunity by Design school since it was new and untested. I felt that I might be the only person who felt that way but at UAM, I realized that not only did fellow students feel similarly, but adults also had some of the same thoughts, ideas, and questions that I had. As a member of the inaugural class, students were a part designing the school and we were all experiencing it together. I have learned that the people around me have a lot more empathy than I might assume. And I have figured out how returning that empathy can help develop a deeper understanding of those around me.
Resilience was a major lesson I learned at UAM. Being in high school and working towards college, and now being in college, I have many times felt overwhelmed with work. But the teachers and staff at my school always pushed me to motivate myself and work to better myself. And I now know that it's okay to fall down, but it's not okay to stay down.
Curiosity and asking questions is a lesson that I realized, once mastered, could result in so much success so easily. Not being afraid to ask questions has, in turn, made me more comfortable working in teams. And a question that I ask can be the same one on everyone else's mind. Being curious can help groups reach success together.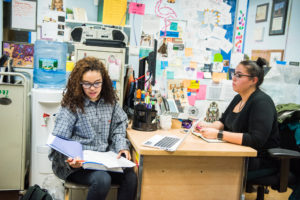 Amanda Delaney and Ashley Vega, UA Maker, winter 2017
Finally, UAM taught me to take risks because that is the path to true learning and growth. I was inspired by the leaders in the room, all of whom took risks by designing innovative high schools that support every student to succeed. I too have taken so many risks: going to a brand new high school I knew nothing about, helping to design that high school when I got there, and learning how to speak up and use my voice.
UAM equipped me with the skills—academically and otherwise—to ensure that I can thrive in college and in my future career. They helped me develop resiliency and determination, and showed me that hard work pays off. The leaders I had the privilege of speaking to last week instill this in their students as well. They have designed and led schools that are leading to impressive outcomes and major impacts for their students. I am proof of that impact. And because of that impact, I plan to make an impact of my own.
Read Full Article